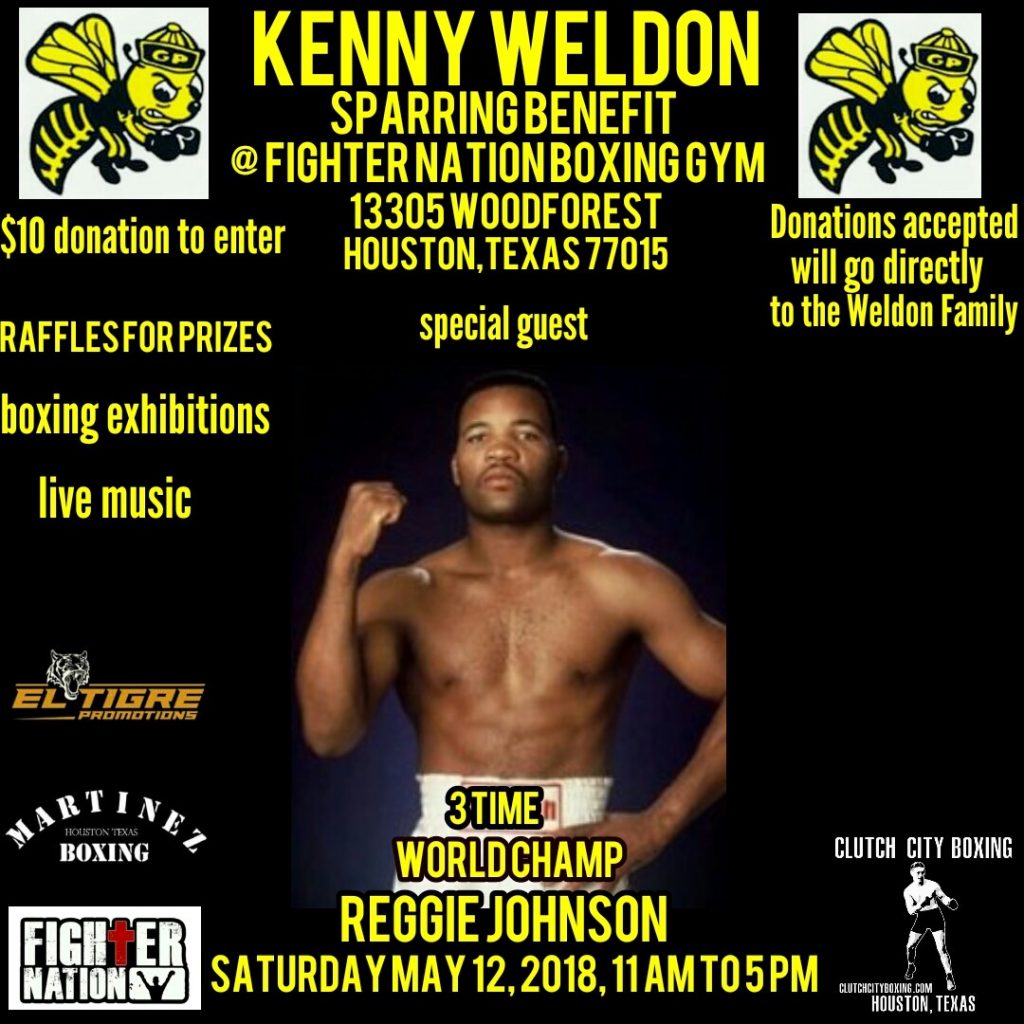 As many of you know, highly acclaimed boxing coach Kenny Weldon passed on April 13, 2018. Kenny was forced to retire from boxing due to health reasons and had been in poor health for several years before passing away.  As we are well aware there is no retirement fund for former boxers and coaches and Kenny's family is now faced with medical bills along with final expense bills, in addition to losing the patriarch of their family.
Several friends and I have gotten together to organize a benefit to help with Kenny's final expenses and we will be giving 100% of the proceeds of the benefit to his family.  The event is being held at The Fighter Nation Boxing Gym, at 13305 Woodforest, Houston, Texas, 77015, on May 12, 2021 from 11 A.M . to 5 P.M.
The benefit will include amateur and professional boxers sparring in exhibition matches, along with live music, raffles, and food and drinks that will be sold for donations. The entrance donation fee is only $10 and along with the entertainment, attendees will also get the opportunity to meet some famous boxing personalities who will be attending.  We will have many boxers from past and present in attendance. The first three to offer their help in supporting this event are well known boxers from our area.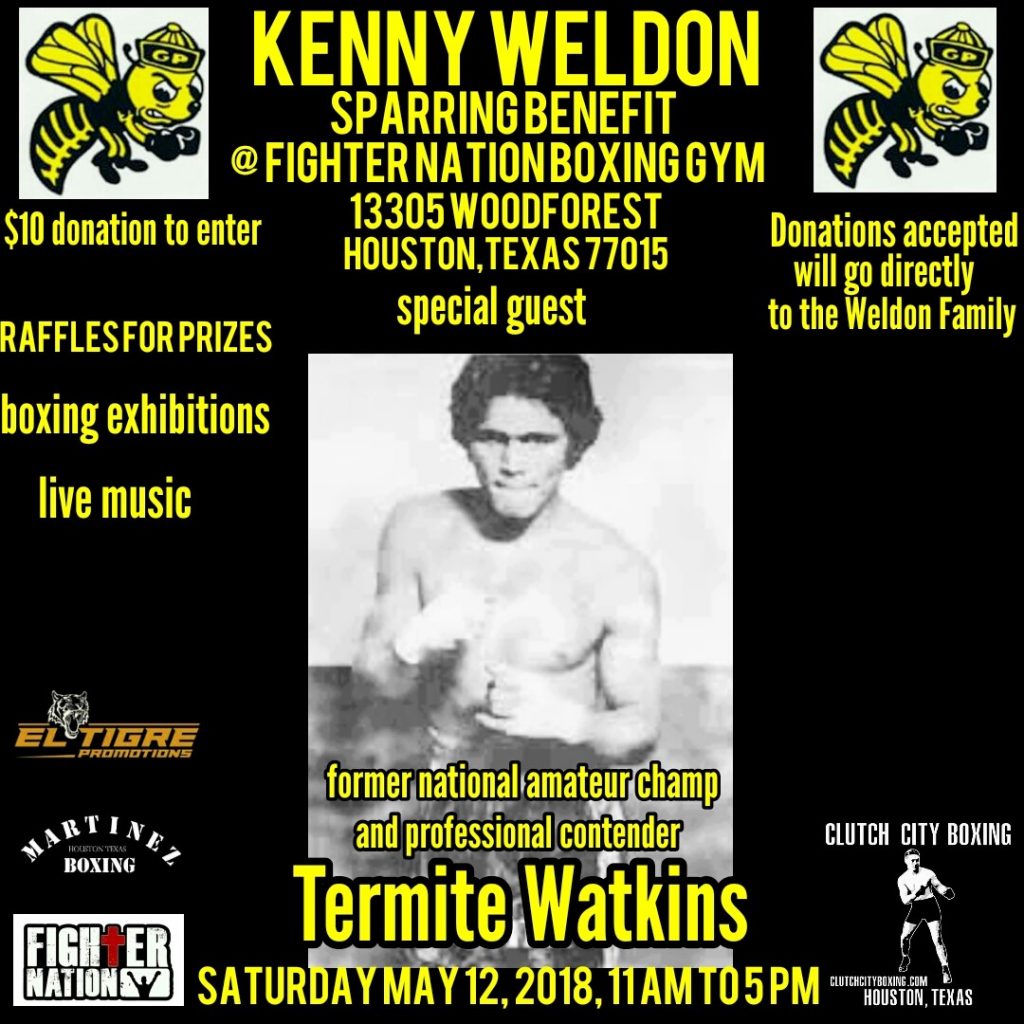 Maurice "Termite" Watkins, is a Houston native, and was Kenny Weldon's first boxing student. Termite is a former National Amateur Champion, who was also the youngest ever at 16 years old, to achieve that goal. He then  boxed on the same United States National Boxing Team as Sugar Ray Leonard and Thomas Hearns, where they represented America in International competition.  He would later turn professional and was a top-ten contender, once challenging Saoul Mamby for The W.B.C World Light Welterweight Championship. Termite also trained, coached, and cornered Iraq boxer Najah Ali for the 2004 Olympic Games in Athens, Greece. Termite has been very helpful and involved in the organization of this event and he was also kind enough to donate the use of his Fighter Nation Boxing Gym for the benefit event to be held.  Termite's book, (They Call Me Termite) recounts many stories from his inspirational life and we are very excited to have him be able to attend.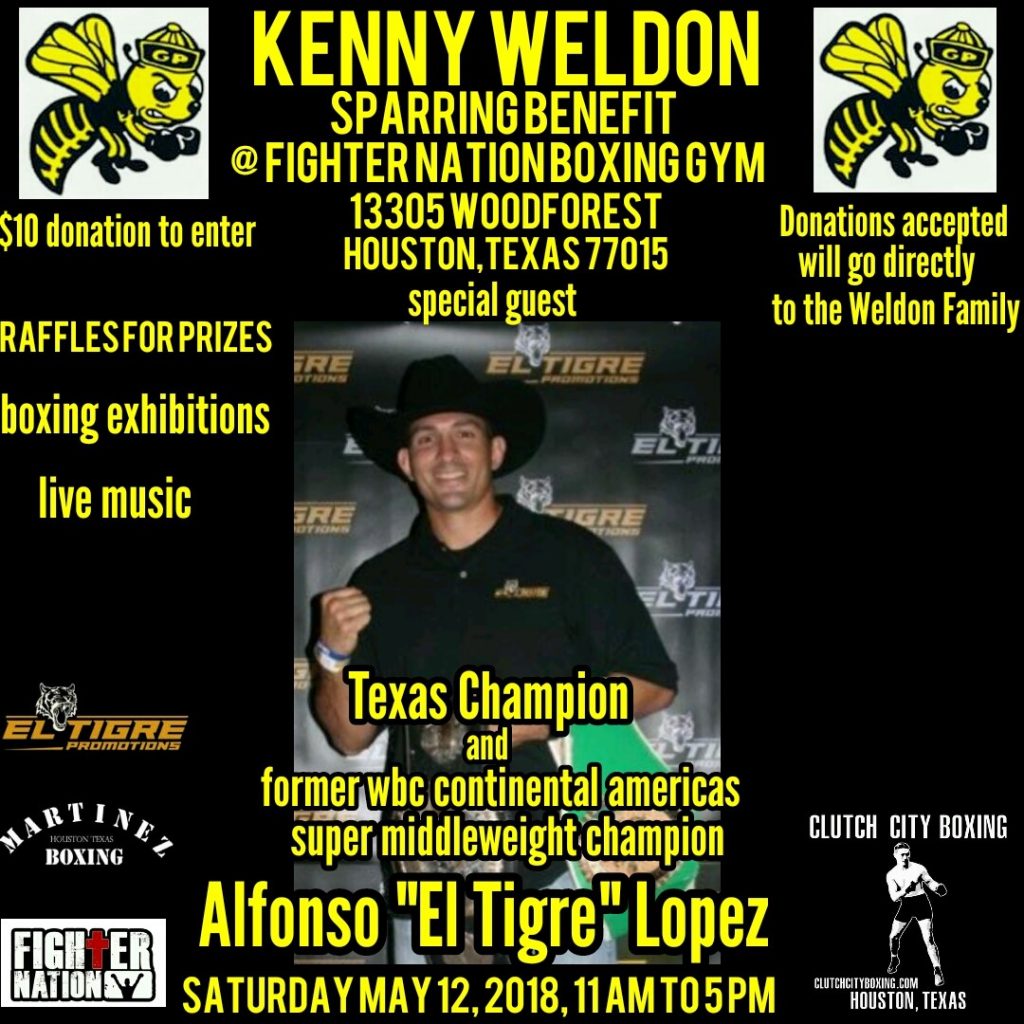 Alfonso "El Tigre" Lopez, is a native of Cut and Shoot, Texas, and is also a representative of the famous Cut "N" Shoot / Harris Boxing legacy.  Alfonso is trained by Henry Harris Jr, former heavyweight title contender Roy Harris, and Felix Ramirez.  As an amateur Alfonso was a multiple time  Houston and Texas State Golden Gloves Champion, as well as a National Golden Gloves Silver Medalist.  As a professional he is a former W.B.C. Continental Americas Super Middleweight Champion,  and current Texas State Super Middleweight Champion.  Alfonso was also very generous to agree to attend this event as he has been very busy with his El Tigre Boxing Promotions, as well as training for a return to the ring on June 22, 2021 at The Humble Convention Center.
Reggie "Sweet" Johnson, is a Houston native and former three-time World Champion at two different weights, (middleweight and light heavy weight).  Reggie grew up in Houston's Fifth Ward and was a student of long time Houston boxing coaches James Carter and John Alvarado Sr.  Reggie was actually the first person to offer his services and has also been very helpful in the organization of this event.  When I initially spoke to Reggie he was very enthusiastic to be a part of this event and upon agreeing to participate told me, "I'm all in and we also must get everyone else together to do something for Kenny".  Reggie then shared a few sayings which he stated his coach James Carter taught and consistently drilled into him during his years with Carter. Two impressive ones that I believe are also relevant to this event were:
"Just as I am here for you today, you must be there for someone else tomorrow"
and
"We may represent different teams and fight each other in the ring, but we are all one boxing family".