Saturday, November 17, 2018  -   saw the return of The El Tigre Boxing Promotions group to Humble, Texas with it's Texas Title Night 2 professional boxing card. The event was held at The Humble Civic Center, and featured nine evenly matched bouts. The exciting night of professional boxing featured some of the finest local talent in the area as well as some tough, out of town talent from around the nation and as far away as Mexico City, Mexico. There were several upsets and three title matches that kept the crowd on it's feet throughout the night. The results were as follows:
John Vanmeter (Uvalde,Texas) TKO 2 over Christian Morris (Lake Charles, Louisiana) at super-featherweight
Manuel Guerra (Reynosa,Tamaulipas, Mexico) UD 4 over Marc Perales (Galveston, Texas) at flyweight
Michael Klekotta (Houston, Texas) UD 4 over Adam Ealoms (College Station, Texas) at junior-middleweight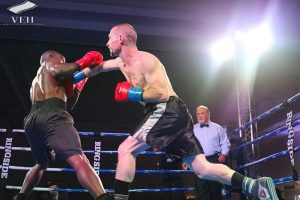 Roger Ibarra (Houston, Texas) KO 1 over Jaren Jones (Port Arthur, Texas) at super-middleweight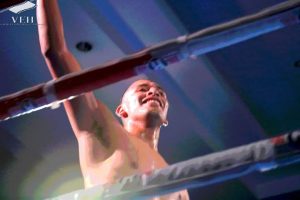 Juan Antonio Velazquez (Houston,Texas) KO 1 over Jamie Chester (Lafayette, Louisiana) at lightweight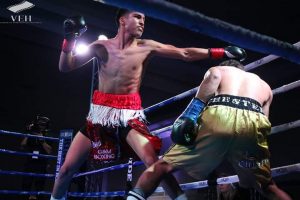 Ivan Vasquez (Houston, Texas) TKO 2 over Jabrandon Harris (Bryan,Texas) at middleweight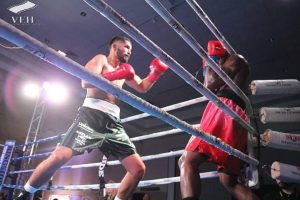 The first title bout of the night(Texas State Cruiserweight Title), featured Eric Abraham (Schenectady, New York) vs Roberto Silva Jr. (Houston, Texas).
Both fighters threw and landed hard punches in the first round but it immediately appeared apparent that Abraham was the more fundamentally sound boxer, with his superior movement , solid defense, and straight punches. Silva brought an exciting style to the first round but his wide hooks and lunging punches seemed to mostly have been blocked or avoided by Abraham.
Silva started the second round doing exactly the same thing he did in the first round, lunging in with his punches and throwing wide hooks, but now it seemed that Abraham was more prepared, dodging Silva's lunges and landing crisp, straight left hands from the southpaw stance. Around the halfway mark of the round Abraham landed a strong, straight left, which seemed to have buckled Silva a bit but Silva kept moving forward. Abraham took a half step back, allowed Silva to close the distance with his lunging style, and landed a devastating right hook that knocked Silva down and out. Referee Sam Garza immediately knew Silva was out and didn't even bother a with a ten count, making Abraham the winner by second round knockout, and new Texas State Cruiserweight Champion. [Winner Abraham by 2nd round knockout for The Texas State Cruiserweight Title].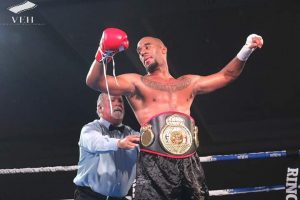 In the co-main event Jonathan Lecona Ramos and Armando Frausto went to war in a six round bout that was definitely the fight of the night. Both fighters fought well and both fighters took turns taking over the bout at different points in the fight. Frausto had the more aggressive style and Ramos had the more calculated style and both were effective with their chosen style.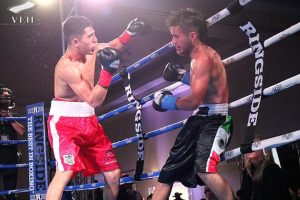 After six rounds of action the judges felt Ramos did the better work, giving him a split decision over Frausto and making him the new A.B.O. Regional Bantamweight Champion. [Winner Jonathan Lecona Ramos (Mexico City, Mexico) SD 6 over Armando Frausto (La Marque, Texas) for The A.B.O. Regional Bantamweight Title].
The main event featured A.B.O. Intercontinental Light-Heavyweight Champion Alfonso "El Tigre" Lopez (Huntsville,Texas) defending his title against Milton Nunez (Miami,Florida).
The bout began with both boxers taking a round or two to feel each other out, while boxing measured and cautiously. Lopez with sharp, straight punches, and Nunez with unorthodox, overhand rights.
In the third round Lopez seemed to have found his comfort zone and began landing hard body shots and uppercuts to go along with the straight lefts and rights he had already been landing from the start of the bout.
Nunez did try to answer back with his own shots but it was all Lopez from this point on, and it seemed only a mater of time before Nunez was stopped or the contest would be stopped.
Lopez continued giving a lesson in boxing to Nunez throughout the fourth and fifth rounds and also landed a left hook to the body of Nunez in the fifth that knocked Nunez to the canvas. Nunez was able to beat the referee's ten count and continue but barely managed to get through the round. Although Nunez is a hard punching veteran that has been in with the likes of Daniel Jacobs, Sergio Mora, and Gennady Golovkin, his skills were no match for those of the well schooled Lopez.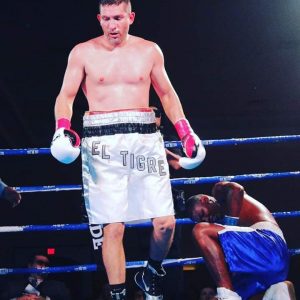 In between the fifth and sixth rounds Nunez's corner signaled to referee Sam Garza that their boxer was unable to continue, putting an end to the bout.
Lopez looked sharp in making the first defense of his A.B.O. Title and appears to be getting closer to his goal of contending for a world title in the near future. [Winner Lopez by 5th round TKO for The A.B.O. Intercontinental Light-heavyweight Title].
Promoter: Felix Ramirez - El Tigre Promotions
Commission: Texas Combative Sports Program
Judges: Immer Guzman, Barry Yeats, and Kellie Isaac
Referees: Gary Simons and Sam Garza
ABO Supervisor: Francisco "Paco" Leal
*all photos used courtesy of VEH Video Productions*