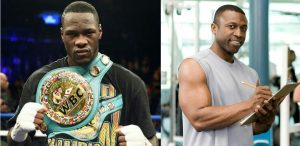 Deontay Wilder vs "Theoretical Experts"  
It always amuses me when I hear a boxing coach, manager, promoter, writer, etc. with little to no boxing experience, criticize a boxer when they themselves are unaware of how little they really know. Do you have to have actual boxing experience to be an effective boxing coach? Manager? Promoter? Writer? That's a loaded question and I won't go too far into it at the moment because it deserves its own time and space. There have been very knowledgeable boxing people that didn't have any actual boxing experience and that can't be denied. At the same time, I think those that were really good at it had to have at least grown up around and in the game in some fashion, in order to know what they are seeing or not seeing, when they never participated. The thing about it is that a person can't understand how different it is actually competing versus being in the corner as a second, or watching from the stands, if they have never experienced it themselves. So, if they don't really understand how hard it is to be effective in the ring when it's you alone versus your opponent and all eyes are on you, then how can they really judge a boxer's performance? Again, there are those that never practiced but have been effective teachers such as Angelo Dundee, but also again, Angelo grew up in and around boxing his whole life because his brother was a promoter. Angelo also was known for authentically caring about his fighters and their welfare, which is the main ingredient most "theoretical" or "practice" coaches lack.  
Caring about your fighter and knowing your fighter is very important and this is where a guy with little or no experience can excel, but he has to have the fighters best interest at hand at all times. Most, not all the time, the guys with no experience are the ones that don't care enough or know their fighter well enough because they are more interested in promoting their own name and making a name in boxing, than they are about their fighters.
Because they have no prestige or acknowledgement to their name in boxing, many times they will build their names at the fighter's expense. These are the kind of guys that will take their fighters on a "meat wagon" tour around the nation, losing to the big-name promoter's guys, just to bring some recognition to their name I suppose. A good coach knows what his fighter is capable of as well as what he is not capable of and won't throw his guy to the lions unless he feels he has a lion beater on his hands. A good coach will also take the time to learn what it is he wants to teach and won't rush into something he or his fighter isn't ready for, because he understands the dangers of the sport. But I'm getting a bit off topic here.  
Deontay Wilder is a perfect person to bring this subject out and into conversation because of his brash personality, poor technique, and continued success. Now I'm not implying that anyone that criticizes Wilder is simply a "hater" or someone that doesn't know what they are talking about, at all. It's very obvious that his technique can be very poor at times and he isn't likely to be the next Joe Louis, Jack Dempsey, or Jack Johnson, but the kid keeps winning! Not to mention he was an Olympic Bronze Medalist and he accomplished that with very little amateur experience. He took his amateur success and has had even more success in the professional ranks, winning every bout so far and he's winning in very impressive fashion. He has something like a 97% knockout to win ratio and has stopped every opponent he's faced in the professional ranks. He accomplished that feat while fighting some very decent fighters as well.
Owen Beck, Audley Harrison, Siargei Liakhovich, Malik Scott, Bermaine Stiverne, Gerald Washington, Chris Arreola, Artur Szpilka, and Eric Molina maybe aren't world beaters but they aren't tomato cans either.  With that being said, I'd say any boxer, past, present, or future would call what Wilder has accomplished a success and would love to or would have loved to accomplish what he has. They also know how hard it is to accomplish things like Wilder has, even on a lower scale such as regional amateur smokers. 
And still there are guys out there with no boxing experience calling Wilder a hype job, saying his technique sucks, calling him "Windmill" Wilder and on and on. My question to those guys is this, "Well then how does he keep winning "? I'd be willing to bet a week's pay they can't tell me how he does it because they don't know. And because they don't know they have to categorize the situation in some way, in order to feel like they understand. The way they've done it with Wilder is by saying he's protected, he's fought less than stellar opposition, he's Al Haymon's cash cow etc. I've heard some say Wilder has only been successful because he's big, strong, and athletic. Well if that was all it took we would have had a million Deontay Wilders already. All we would have had to do is raid the NFL or NBA draft and we'd have a new George Foreman every year.
Of course, plenty of knowledgeable boxing guys with all the experience you could ever want feel Wilder is horrible technically and needs a lot of work. When you have dedicated your whole life to perfecting an art and you see someone putting your art into practice in an ugly way, it's going to be bothersome. So, the message here isn't that people don't know what they are talking about when they criticize Wilder, I'm just saying be careful who you listen to because most times the guys who are out there making the most noise criticizing, are the least qualified to do so.   
I personally like Wilder, I think he's fun to watch and his knockout power makes him a threat to any heavyweight in the division in my opinion. Do I think he's the next Willie Pep or Sugar Ray Robinson? of course not. Wilder does need to improve on a few things and maybe he will maybe he won't, but the kid is game if nothing else and his success can't be denied. The thing about it though is that I've been in the ring in actual competition and I know that there is no certain equation that will guarantee who will win or lose a bout.  I've experienced and seen how the most technical guy doesn't always win. Or the hardest puncher. Or the fastest/quickest. Or the toughest etc. There are many things that factor into who will be victorious in a boxing match and somehow this kid Wilder keeps putting enough of those things together to keep winning.
Therefore, it irks me when guys that never set foot in a ring in their life go around bashing the kid when they can't say they ever had the courage to even try doing what he's doing. Or they say, "Well I always wanted to be a coach so that's why I just coached". Of course, they did because coaches don't get punched. It's very easy to be an "expert" when you are a spectator, even if it's from the corner as a second. Unless you've actually got in there and "danced" yourself at some level, your expertise is only in theory, in my opinion. You are a "Theoretical Expert". So, change the title on your business card and advertisements to (Coach, "fill in your name here" Theoretical Expert.)