The Martinez Boxing Team will be present at The Kenny Weldon Sparring Benefit and Celebration,  helping Clutch City Boxing and everyone attending to celebrate the life of boxing coach Kenny Weldon. Coach David Martinez is well known throughout the Houston boxing community as a person who works hard to bring his boxers and our city back into the national spotlight it held in the 60's, 70's and 80's, and he has made a huge contribution in doing so in a relatively short amount of time. Coach Martinez certainly respects and loves the sport of boxing and always goes above and beyond for the boxers he trains and represents. He's also a proud representative of Houston boxing and has always represented us well on a local and nationwide basis.
I recently went to The Martinez Boxing Gym when a fighter I was training received a small laceration during training and I needed some expert advice on how to best handle the healing of the cut, as well as  how to best keep it from bleeding should it open up during my fighter's bout.  Coach Martinez was very helpful and generous with his knowledge and I must add, friendly and understanding when I explained to him that I knew the in ring aspects of boxing well, but not so much when it came to cuts and so forth.  I left his gym that day with a renewed respect and appreciation for his willingness to help out rather than judge as many coaches are apt to do, and I found his approach refreshing. Thankfully my fighter was able to stop his opponent in 59 seconds in his bout a few weeks after my meeting with Coach Martinez and the cut never became an issue, but I was still very grateful that he gave me the best advice he could without a second thought.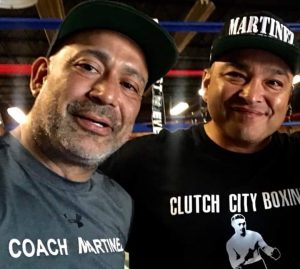 A few weeks later I called on Coach Martinez to advise him that I was organizing a benefit, sparring event to celebrate the life of Coach Kenny Weldon, and needed more professional boxers to participate. Again he was very generous and immediately agreed to bring a few members of his team to help out.
Clutch City Boxing would like to thank Coach Martinez and his team of Cristobal Morales, Roberto Silva, and Josue Morales for their help in making this a successful event and wish them the best in their upcoming bouts . We would also like to thank Coach Ray Ontiveros, Coach Ernest Tobias, Atzlan Boxing (South Houston), Alfonso Lopez and El Tigre Boxing Promotions, Termite Watkins and Fighter Nation, Reggie "Sweet" Johnson, Coach Melvin Dennis, Warren "Kid Nitro" Williams, J.P. Portillo, Jordn Mikalz, Denzel James, Craven Crawfish, Portico Services, Tiger Medina, Jimmy Strickland, Martin Allison, Pelon Renteria and King Boxing, Coach Rambo Cano, Coach Adrian De la  Garza, Rafael Munoz Jr, and The Weldon Family for allowing us to organize this event in honor of Kenny.
Also look out for upcoming articles similar to this one featuring the teams and persons I've just mentioned above.  And if I've failed to mention anyone it's not intentional I just got a million things going on right now.