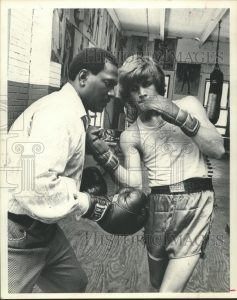 Al "Potato Pie" Boulden, was a former boxer and outstanding boxing trainer based out of Houston, Texas.  Potato Pie was from a small country town near Spring, Texas. He trained and/or cornered many outstanding boxers including:
Maurice "Termite" Watkins, Iran Barkley, Lou Saverese, Dwaynea Muhammad, Frank Tate, Vince Bouleware, Everett "Big Foot" Martin, Othal "Choo Choo" Dixon, Tony Tucker, Mike Williams, and Calvin Grove.  
Al was one of the most sought after and knowledgeable coaches in our area and worked out of several gyms, including The Savannah Boxing Gym, Main Street Gym, The H.B.A. Gym, and The P.A.B.A. Boxing Gym.   Al was also a mentor to Bob Spagnola, who has gone on to become very successful in many avenues of boxing including managing, advising, and promoting.