On May 12, 2018, Clutch City Boxing and friends, along with The Weldon Family gathered together to celebrate the life of the late Coach Kenny Weldon. The day consisted of old friends coming together along with new friends to pay respect to and celebrate Coach Kenny, in the most appropriate way possible, through boxing.
Fighter Nation Boxing Club, Ray's Boxing Club, El Tigre Promotions and Boxing Academy,  Martinez Boxing, Savannah Boxing, Charlo Boxing, Cut and Shoot Boxing , Atzlan Boxing (South Houston),  and King Boxing all had boxers participating in sparring, with several even sparring boxers above their weight class, and/or sparring several times to make the day a success.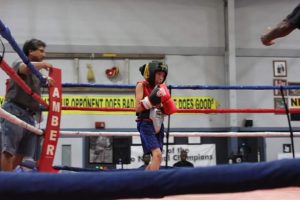 The day of sparring, music, food, and friendship, began with an excellent display of boxing between K.B. Renteria and Cesar Mendoza, two boxers whose boxing heritage can be traced directly back to Coach Kenny and The Galena Park Boxing Academy.  K.B. is trained and coached by his uncle Eleazar "Pelon" Renteria and Cesar is trained and coached by Ernest Tobias, both of whom trained for many years under Kenny Weldon. Both coaches learned their lessons well at The Galena Park Boxing Academy and have began to pass those lessons on to the boxers they train, which was evident in the advanced boxing skills displayed by their respective 9 year old boxers. 
The day continued with excitement as every boxer involved gave their best and there were many boxers whose boxing lineage could also be traced back to Kenny participating , especially since the hosting club, Fighter Nation was founded by Termite Watkins, who was one of Kenny Weldon's first boxing students. 
Josh Renteria and Josue Morales were two of several boxers that came to spar but were not able to due to several teams and individual boxers no-showing and not giving any advanced notice. Clutch City Boxing and Fighter Nation appreciate every boxer who did come to spar whether they were matched or not and we thank you for your efforts.  We were also disappointed we did not get to watch Mark and Jose spar since we had been looking forward to watching both apply their advanced boxing skills.
"DJ B.T.L"  Denzel James provided music and doubled as an announcer as the boxers entered the ring, along with keeping the crowd and boxers informed of the days activities such as the glove raffles and attending celebrities. "It's Krucial" Jordn Mikalz got the crowd excited and involved when he performed his rendition of The Houston Rockets Playoff Anthem. His contribution was much appreciated as he lifted the spirit of the crowd and injected his positive energy into the room. His song based on The Houston Rockets playoff run but explained by Jordn as an ode to everything "Houston"  was a perfect celebratory song for the event and was enjoyed by all.  
So many groups and individuals contributed to the day that it's almost impossible to name them all but a few of the major contributors were , Reggie Johnson, Beverly Hollis, Termite Watkins and The Fighter Nation Family, Alfonso Lopez and The El Tigre Promotions Team,  Ray Ontiveros and The Ray's Boxing Team, David Martinez and The Martinez Boxing Team, The Renteria Family and The King Boxing Team, Melvin Dennis, Warren Williams, Bigfoot Martin, Rafael "Tiger" Medina and Family, Martin Allison, Ernest Tobias, J.P. Portillo,  Mark and Amanda Harris, The Weldon Family, Mike Phelps, Tom Trimm and many more.
Clutch City Boxing would like to thank everyone who attended this event and/or contributed to making this celebration of Coach Kenny's life a successful and fun day for everyone involved. I personally was overwhelmed by the graciousness and generous nature of everyone involved, who all gave their time freely without asking for anything in return, and I am eternally grateful to you all.