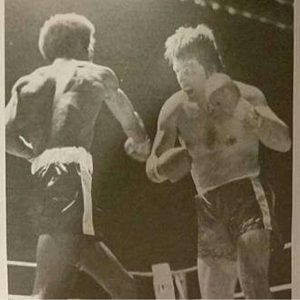 Chuck Mince
Chuck "I Come to Fight" Mince, was born in New Orleans and can trace his boxing expertise lineage back to the famed New Orleans trainer Whitey Esneault, who trained Chuck's uncle Jerome Conforto. Jerome, managed by his brother Al Conforto, and trained by Whitey, was an accomplished amateur and professional, once even fighting for the World Welterweight title that was vacated by Barney Ross. Jerome would also start what became the Conforto/Mince/Collinsworth fighting family boxing tradition when he taught Chuck " I Come to Fight" Mince boxing and trained him throughout his career.
Chuck Mince was very successful in both amateur and professional ranks with the guidance and tutelage of his uncle Jerome. He was the Welterweight Louisiana State Golden Gloves, Open Division Champion four times and also participated in many amateur bouts in Texas, after finding bouts hard to come by in Louisiana. This would begin a lifelong connection to boxing in Texas with other notable accomplishments being beating Kenny Weldon in an Open Division amateur bout, splitting a pair of professional bouts with Melvin Dennis, defeating Charlie Smalls, and also defeating Willie Warren twice.
Chuck's professional career lasted from 1968 until his final bout in April of 1979. Chuck's final bout was held at the New Orleans Superdome, on the undercard of the WBA Light Heavyweight Championship bout Galindez vs Rossman. After retiring from competition Chuck began training fighters, including several younger generations of the fighting Conforto/ Mince/Collinsworth family, including his sons Chuck "Bad Boy" Mince, (10-0) as a professional, and "Marvelous" James Mince, (8-1) as a professional. "Marvelous" James was also a finalist on Oscar Delahoya's " Next Great Champ" reality television show.
"I Come to Fight" Mince continues to be connected to Texas as his nephew Derek Collinsworth is currently a trainer in Houston, Texas. One of Derek's proteges, Quintin Randall, is currently the number 1 ranked boxer in the nation at 152 pounds, and fights on the U.S.A. Boxing Team internationally. Mince was also mentioned as the toughest professional opponent of Houston boxing legend, Melvin Dennis, who stated, "He wasn't lying about his fight name, he really did "Come to Fight"!