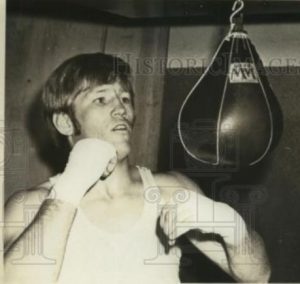 Raymond "Pink Panther" Boyd
Raymond Boyd had a storied and solid career in both the amateur and professional ranks. His professional career spanned from 1970 to 1982, and he finished with a record of 27 wins with 22 knockouts, and 9 losses. A former stablemate of Kenny Weldon and Manny Gonzalez, Mr. Boyd's name is mentioned often by the local pioneers of professional boxing when the subject of tough competitors is brought up.
Born in New Orleans, Mr. Boyd spent his youth in Edna, Texas and would ultimately reside in and box out of Houston, Texas. Also known as "Sweet" Raymond Boyd, Mr. Boyd embodied the Houston and the Texas, "rumble ready" spirit. Though Mr. Boyd was an educated boxer, he kept a "street fighting" element to his approach that led to entertaining and memorable bouts. Former national amateur champion and Texas State Middleweight Champion, Melvin Dennis, described Mr. Boyd as his toughest amateur opponent, stating that every one of their three bouts were "dogfights".
As if his tough approach to boxing and his entertaining bouts weren't enough, Mr. Boyd also brought a "pro wrestling" entertainment aspect to boxing by wearing pink trunks, robes, and socks, as well as screaming a "war cry" of sorts as he was walking to and into the ring. Pink Panther also was known to "trash talk" before, during, and after bouts, as well as use moves such as the "head lock" during his bouts. There have also been reports of Pink Panther Boyd blowing kisses to attractive females in the crowd as well as professing his handsomeness to anyone who would listen. Maybe Mr. Boyd was influenced by the Houston Wrestling bouts that were popular at the time and held in the same Sam Houston Coliseum as Mr. Boyd fought many of his amateur and professional bouts. Raymond "Pink Panther" Boyd certainly left a lasting impression on his local peers and stories of his bouts as well as his antics, are Houston area boxing legend.