Born: March 21, 2022
Died: June 11, 2021
Height:  5'8
Weight: Welterweight
Stance: Orthodox
Pro Debut: March 12, 2022
Pro Record:   60 wins       34 loses     6 draws
Born: Charco, Texas 
Hometown: Odessa, Texas
Manuel "Manny" Gonzalez left an undeniable impression on The City of Houston, Texas and it's boxing fraternity. Manny started his professional career in 1957 and by 1958-59 he was already training with trainer Billy Defoe, in Houston, Texas. Soon, after proving himself to be a hot prospect with plenty of potential he was taking in by the trainer/manager combination of Bill Gore and Lou Viscusi, who had set up their Texas Boxing Enterprises operations in downtown Houston.
Being born into a poor family of laborers, life started out rough for Manny in Charco, Texas. To make things worse he was stricken with tuberculosis as an infant and was sickly and weak as a child. The tuberculosis affected him so much so that he didn't even start school when he should have, due to his weak condition. This undoubtedly affected his ability to gain and build physical strength in his early years and would eventually play a part in his boxing style later in life.
When Manny was 12 years old his family moved to Odessa, Texas and he was forced to quit school in order to take on a full-time job picking cotton, so that he could contribute to his family's income. This alone would have been difficult for any child of twelve years old, but it was even more difficult for Manny because he wasn't even a strong boy due to his early battle with tuberculosis. Quitting school and working full-time wasn't something he really had a choice in due to his family being very poor, but it also had the added effect of ensuring that Manny's prospects for employment would be limited in his future adulthood. About the only positive thing that came out of the whole thing was that with the long hours of difficult, physical work, out in the elements, Manny's health began to improve and he was finally able to begin building his strength, stamina, and endurance.
Soon Manny was able to build his strength and endurance enough to where he was able to begin practicing boxing after his hard days of work as a cotton picker, and he began his amateur career. Although Manny's health had improved enough to where he was able to begin practicing and learning one of the hardest sports in the world, he was still somewhat behind in the development of his physical strength in comparison to other kids his age. Due to this fact, Manny improvised and made up for his initial deficit in strength by focusing on the finer points of boxing, and developed a smooth, counter-punching style, based upon the most important principle of boxing, to HIT AND NOT GET HIT IN RETURN.
As time went on he was able to build his strength, along with his skill, stamina, and endurance, enough to become one of the best welterweight boxers in the world, but Manny was never known as a heavy puncher. He instead relied upon speed, quickness, footwork, boxing fundamentals and technique to win most of his bouts by decision. Also luck may not have been on Manny's side in his childhood, but he seemed to have been favored by luck as an adult, when he was able to connect with and become a student of Bill Gore in the late fifties. Gore, by this time, was known as one of the most astute and capable boxing teachers in the world, and had received his boxing education at the famed Stillman's Gym in New York City. While Gore was still a young man, learning his trade by watching some of the most knowledgeable boxing trainers in the world, he was noticed by then lightweight champion Benny Leonard and taken under Leonard's wing. Leonard is now known as one of the greatest lightweight boxers to have ever stepped into the ring and used outstanding footwork, technical skill, along with what famed trainer Ray Arcel called "mental energy" to dominate his division in his prime. Leonard would pass these lessons in boxing on to Gore, who in turn taught these same concepts to his students, including his most famous product, Willie Pep. Gore was also one of the best in the world at not only having the knowledge, but being able to articulate the knowledge to his students in a way which they were able to understand and learn. Gore's approach to being a boxing "trainer/coach and corner man" was as a teacher and mentor, more than the stereotypical coach with a towel draped over his shoulder, barking out boxing "catch-phrases" and teaching worthless, fancy punch-mitt routines, of today. Gore was the boxing teaching and his partner Lou Viscusi was the boxing manager. Together they were a very successful combination.
While operating in the northeast part of the country, mainly New York and Connecticut, the Gore/Viscusi combination had already achieved much success in amateur and professional boxing guiding Melio Bettina, Mike McTigue, and Willie Pep to championships. When the pair came to Houston, Texas in the mid 1950's they brought opportunity for local boxers that may have not gotten the opportunities otherwise, and continued being very successful.  During this era Gore and Viscusi were known to be involved with many of the Houston, and Texas area contenders and champions, along with contenders and champions from around the country including, Roy Harris, Bob Foster, Cleveland Williams, Joe "Old Bones" Brown, Tony Licata, and many others.
The connection with Gore was a fortunate one for Manny not only because of the connections in boxing the Gore/Viscusi pair brought him, but also because Gore's preferred method of boxing instruction and outlook on boxing was perfectly aligned with the technical/fundamentally sound style and outlook Manny already practiced and believed in. This definitely would play a big part in Manny's ability to become one of the best welterweight boxers in the world as the still upcoming boxer seemed to have found the perfect teacher/ mentor in the sweet science.
The Benny Leonard, Bill Gore, Willie Pep, influence on Manny became evident from that point on throughout the rest of his career, as he became known and respected for his technical skill, footwork, educated defense, and cerebral approach to boxing.
Also after signing with Viscusi as his manager and taking on Gore as his trainer, Gonzalez made Houston, Texas his home and fought in and around Houston frequently, many times at The Sam Houston Coliseum. From 1960 through 1965 Gonzalez tore through some of the best talent in the welterweight division, beating and becoming the Texas State Champion, as well as beating the Louisiana State Champion and Canadian Champion.
Manny's prime as a boxer may have been in 1965 when he easily outpointed then welterweight champion of the world Emile Griffith, in a non-title bout staged at The Sam Houston Coliseum. Griffith supporters may have tried to belittle Manny's win over Griffith by claiming a hometown decision, but it should be noted that other than the judges and referee's opinion that he won, a poll of boxing writers at ringside, many from Griffith's hometown of New York, also favored Gonzalez as the winner. When describing Manny's win over Emile Griffith Ring Magazine contributing writer Chet Warner said this of him: "Gonzalez is a smooth working boxer, who is adept at slipping and ducking, while countering with darting jabs and hooks. He tattooed his jab on Griffith's jaw for virtually the entire ten rounds".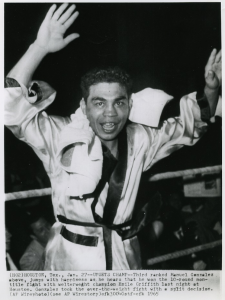 Manny Gonzalez was known as one of the best welterweights in the world throughout the 60's and he didn't start to slow down until 1970, after he had already been in the professional ranks for thirteen years. Thirteen years in which he fought the best competition in the division, many times on more than one occasion. The list of names he faced in the division reads like a who's who in boxing at the time including: Dario Hidalgo, Rip Randall, Denny Moyer, James Shelton, Peter Schmidt, Emile Griffith, Marshall Wells, Kenny Lane, Ernie Lopez, Bunny Grant, Jose Napoles, Chucho Garcia, Charley Shipes, Gaspar Ortega, Rocky Randell, Curtis Cokes, Alvin Boudreaux, Nolan Duplessis, Bunny Grant, Billy Backus, and Joe "Old Bones" Brown.
He was able to secure wins over Alvin Boudreaux, Nolan Duplessis, Curtis Cokes, Rocky Randell, Rip Randall, James Shelton (for the Texas State Welterweight Title), Denny Moyer, Peter Schmidt, Gaspar Ortega, Charley Shipes, Dario Hildago, Chucho Garcia, Marshall Wells, Emile Griffith, and Joe "Old Bones" Brown, and many of his losses were hometown decision losses or politically influenced.
Trainer Bill Gore had this to say about Manny's loss in a return bout held in New York for Griffith's title: "Manny didn't lose. He gave the champion a boxing lesson but they don't appreciate the art of self-defense in this town. If Griffith is a champion, I'm a watchmaker".
As mentioned before Gore and Viscusi operated out of downtown Houston, having their offices and The Texas Boxing Gym there. While signed with Viscusi and trained by Gore, Manny worked with many boxers who were also associated with Gore and Viscusi, or who came to The Texas Boxing Gym for sparring. While interviewing several of the Houston boxing legends of yesteryear, Manny's name has come up frequently. Here are some of the statements I've gotten in reference to Manny Gonzalez:
Jesse Valdez, Former Olympic Champion and possibly greatest boxer ever to have been born and raised in Houston, Texas:      "Other than my trainer Charlie Court, the one who helped me out a lot was Manny Gonzalez. Manny had great movement and footwork and I learned a lot from him and by sparring with him."
The late Kenny Weldon, a former amateur and professional champion, who became an all-time great boxing coach after his competition years, was quoted by his son Chance as saying:         "Manny Gonzalez had the best ring awareness of any fighter I've ever saw."
Melvin Dennis, a former amateur national champion, Texas State Welterweight Champion and world contender:                                                 "Manny Gonzalez was a bad dude in every sense of the word. After I won the National Title as an amateur and decided to turn pro, I was brought to The Texas Boxing Enterprises Gym to prepare. Manny Gonzalez was the first person who I sparred there. I was a little hesitant at first because Manny was known as one of the best welterweights in the world at the time, but Manny assured me he would work with me, and he was a man of his word.
While I was still getting accustomed to the additional rounds of sparring along with the advanced, professional level techniques of the pro game, Manny always looked out for me, and never tried to hurt me. Later when I was able to spar on a level in which Manny and I could spar hard, the sparring was always great work, done in a professional way. I learned most of what I know about professional boxing from Manny and considered him one of my best friends at the time.
He was one of the best welterweight boxers in the world for years before he ever got a shot at the world title and in my opinion he should have been world champion. His opponent in his world title bid didn't really bet him, boxing politics beat him. Manny was a defensive wizard, who was fast and slick as hell. The only thing about him was that he didn't really punch hard, but it didn't really matter because he hit you so many times from so many angles, you wouldn't know where you were or what hit you. The thing I liked the most about Manny though, was that he was a straightforward person. It didn't matter if you were black, white, or brown, if Manny liked you he liked you, and if he didn't he told you to your face and wouldn't talk behind your back. If Manny was your friend he showed that at all times no matter who was around and he never acted different around certain people like a lot of people did in those days. Like I told you before Lou, Manny was a bad dude in every sense of the word."
According to Melvin Dennis, Manny Gonzalez remained in Houston after his boxing career ended and stayed until approximately twenty years ago when he told Dennis he was moving to care for his aged father, who lived out of town.
Manuel "Manny" Gonzalez died on June 11, 2021 in Greely, Colorado.
Although he wasn't a Houston native his legacy in Houston, Texas is felt to this day as he is mentioned frequently by some of the most accomplished and respected contenders and champions in Houston boxing history.