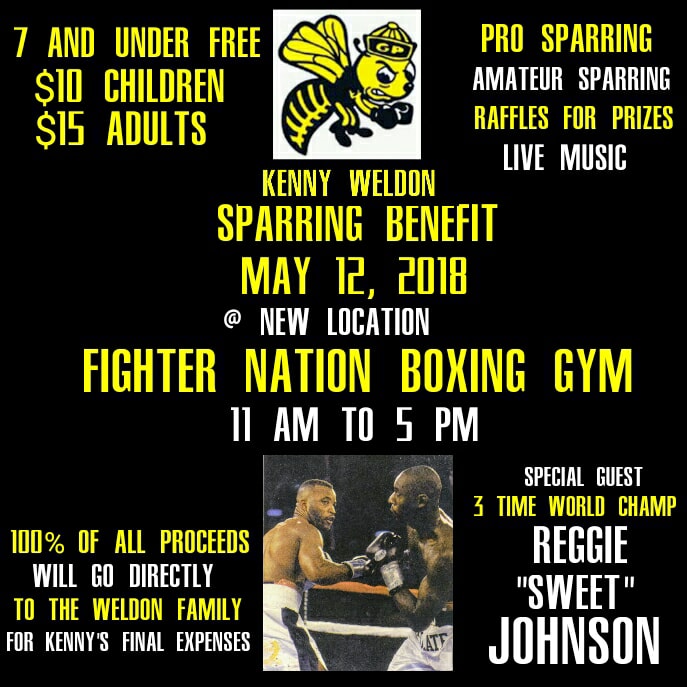 Due to the high level of interest in the sparring benefit, as well as the recent passing of Kenny Weldon, we have postponed the benefit until May 12, 2018, and also changed the location to The Fighter Nation Boxing Gym at 13305 Woodforest Boulevard, Houston, Texas, 77015.
Termite Watkins and Beverly Hollis at The Fighter Nation Boxing Gym were kind enough to agree to work with us in bringing this benefit to you in honor of Kenny and we are excited to see everyone on May 12.  We at Clutch City Boxing also felt that the Fighter Nation Gym was a perfect place to hold the event for several reasons.
The first reason is because when Kenny closed down his gym he gave a lot of the equipment he had in his gym to Termite and The Fighter Nation Gym, and helped coach there, before retiring completely.  The second reason is because Termite Watkins was Kenny's first boxing student, and we feel that the spirit of The Galena Park Boxing Academy and Kenny Weldon boxing lives on throughout Houston but more so at The Fighter Nation Gym.
Also the main ring that was used at Kenny's gyms throughout the years, stands today at Fighter Nation. This is the same ring that Muhammad Ali fought Cleveland Williams in, and also many Houston Golden Gloves bouts were fought in.  This ring was also used by the many Champions developed and trained by Kenny in his Galena Park and World Class gyms as well as the many Champions he worked with for important and Championship bouts including, Jesus "Ernie" Gonzalez, Reggie Johnson, Termite Watkins, Evander Holyfield, Pernell Whitaker, Meldrick Taylor, Hector Camacho, Livingstone Bramble, Raul Marquez, and many more.
We are looking forward to seeing everyone and hope you all enjoy the professional and amateur sparring we are putting together, the music, as well as the food and drinks that will be available.  All Coaches that have sent in rosters or have confirmed your boxers will participate, I still have your rosters and will be posting information soon on what I have up to this point, so hang in there I haven't forgotten about you.
If anyone would like to participate or if anyone needs to cancel etc, I can be reached at 832-845-1321.