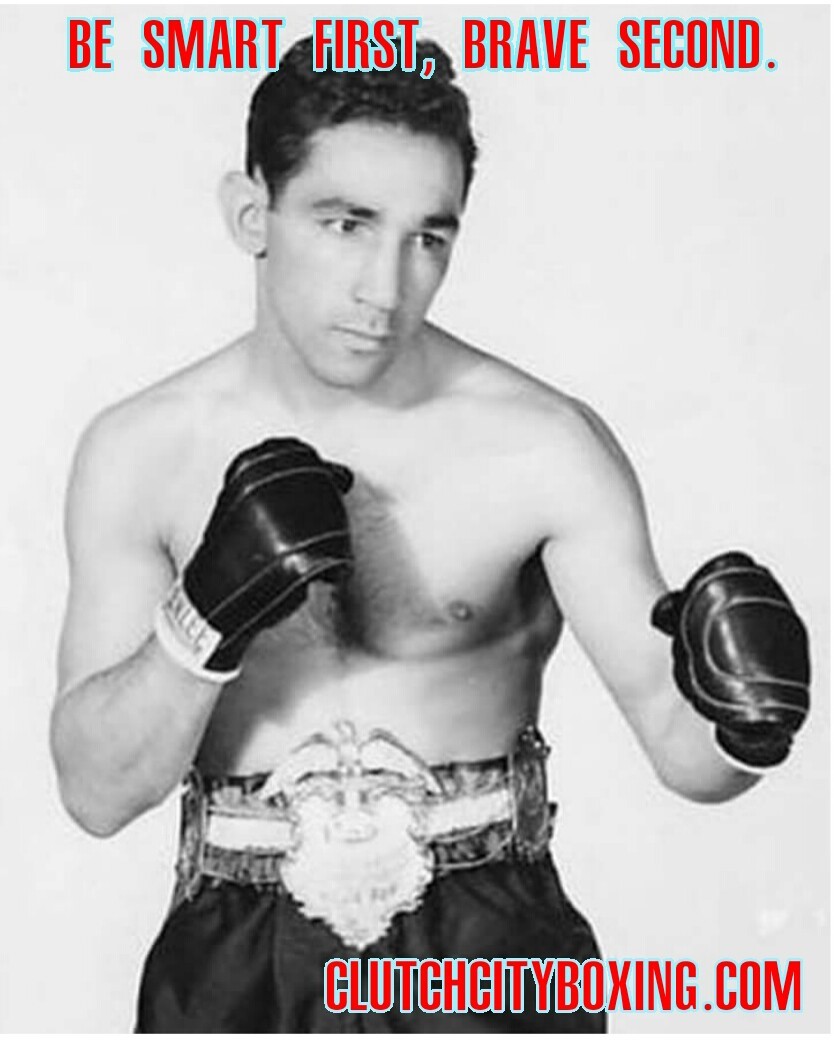 Boxing is a tough sport but a person's approach to the sport can make boxing tougher than it has to be.  A persons approach should be to give, while doing their best not to receive. Why would you allow yourself to get hit when you don't have to? If you want to bleed, get bruised up, and show how tough you are by taking damage, join an MMA school. Boxing, in it's purest form, is a smart man's game, not a tough man's game.  Not that you have to be a college professor to be able to understand boxing, but you do have to be able to be smart enough to think of keeping yourself from getting hurt, before you think about the many ways to hurt your opponent.
Willie Pep, one of the greatest defensive fighters in history, was a Bill Gore protege who's boxing knowledge lineage can be traced back to another defensive wizard, Benny Leonard, who helped teach Gore boxing. As I've stated before in earlier articles, Bill Gore taught many Houston and Houston area boxers during the time he spent in Houston. One of Gore's students was famed boxer and teacher of boxing Kenny Weldon, who is likely not only one of the most accomplished boxing trainers ever, he also is likely the most emulated person in Houston when it comes to teaching boxing.
With Kenny Weldon's contributions to boxing and boxing instruction in Houston, along with the many other outstanding and accomplished boxers and trainers that Bill Gore taught who also have taught and still teach boxing in Houston, there is absolutely no reason why a boxing school, trainer, or boxer should adhere to the "face-first" style of boxing enjoyed by boxing neophytes. If you walk into a boxing gym and notice boxers beating each other half to death in the ring, while other boxers shadowbox in the mirror with most of their weight on their lead leg, and over their lead foot, with the Coaches giving little or no instruction to anyone but their "competition" boxers, turn around and walk out as fast as you can.  Leave and don't ever go back. I don't care what credentials they may have or how long they have been doing it, they have been doing it wrong.
And for guys that have been boxing and maybe still don't understand the point of sparring, it's a learning exercise not a place to get beat up. Be smart not only in the ring but also outside the ring. If you are being used by a Coach as a crash dummy, taking unnecessary damage, so that one of his favorites can boost his confidence while your confidence is in the dumps, again walk away, your health and best interests are not being respected or protected. The Coach there either is unqualified to be teaching boxing and is ignorant to the fact he's not protecting you, or he is consciously using you, your health, and self-esteem to boost those of someone else. Think about that the next time you leave the ring from sparring, with a black eye, bruised, and beat up.