The scene was AT&T Stadium, Arlington, Texas, Pacquiao vs Margarito undercard, November 13, 2010.
Manny Pacquiao was at or near his best, and was riding a wave of momentum after beating Oscar De La Hoya, Ricky Hatton, Miguel Cotto and Joshua Clottey prior to facing Margarito.
Manny had been looking for the Mayweather fight at the time but wasn't having any luck in landing the bout, so he and Top Rank decided he would face Margarito at the home of The Dallas Cowboys instead. Bringing the fight to the Dallas area, with it's large Mexican and Mexican American demographic was a smart move and the stadium would prove to be packed on fight night.
With Pacquiao already leading the resurgence of Filipino boxing, he took it one step further for this fight, and brought along several of his Filipino countrymen to introduce to the worldwide stage in Denis Laurente (38-4-5), Richie Mepranum (22-2-1 ), and Juan Martin Elorde (11-0).
Although Margarito could have still been considered a threat at the time due to his pressure heavy, rugged style and size advantage, this was undoubtedly the Manny Pacquiao and Friends Show, and all of the Filipino fighters were matched accordingly. Manny and company didn't come to Texas to get tested, they came to pick up wins and look good doing it.
Of the three Filipino boxers on the under-card, Juan Martin Elorde came in with the most hype and possibly most promise.
Undefeated and the grandson of Hall of Famer, Gabriel "Flash" Elorde, Juan Martin was purportedly a national amateur champion in his home country, and had blazed his way to an 11-0 record with 4 knockouts in the pro ranks, fighting exclusively in The Philipines. His bout on the Pacquiao vs Margarito undercard was meant to be his introduction to the boxing public on the world stage as the next big thing to come from The Philipines.
With all the right cards in his hand and the support of main event attraction Manny Pacquiao, Elorde would only have one problem on this night, his opponent Angel Rodriguez, who was living and fighting out of Houston, Texas.
Rodriguez had somewhat of a late start in boxing and only had six amateur bouts before turning professional. Relying mostly on strength, punching power, and grit, since he hadn't had time to develop his skills before joining the punch for pay ranks, he looked to out fight opponents that had the edge in experience and technique on him.
By his own admission he was "Thrown to the wolves" after his second pro fight, his next seven opponents having records of (5-0), (3-0), (5-0), (5-0-1), (7-0), ( 5-0-2), ( 8-0-1) including Diego Magdeleno and Adrien Broner.
He would then go on to pick up an easy win before challenging another undefeated fighter (10-0) and picking up another loss, bringing his record to 4-4-2 going into the Elorde bout.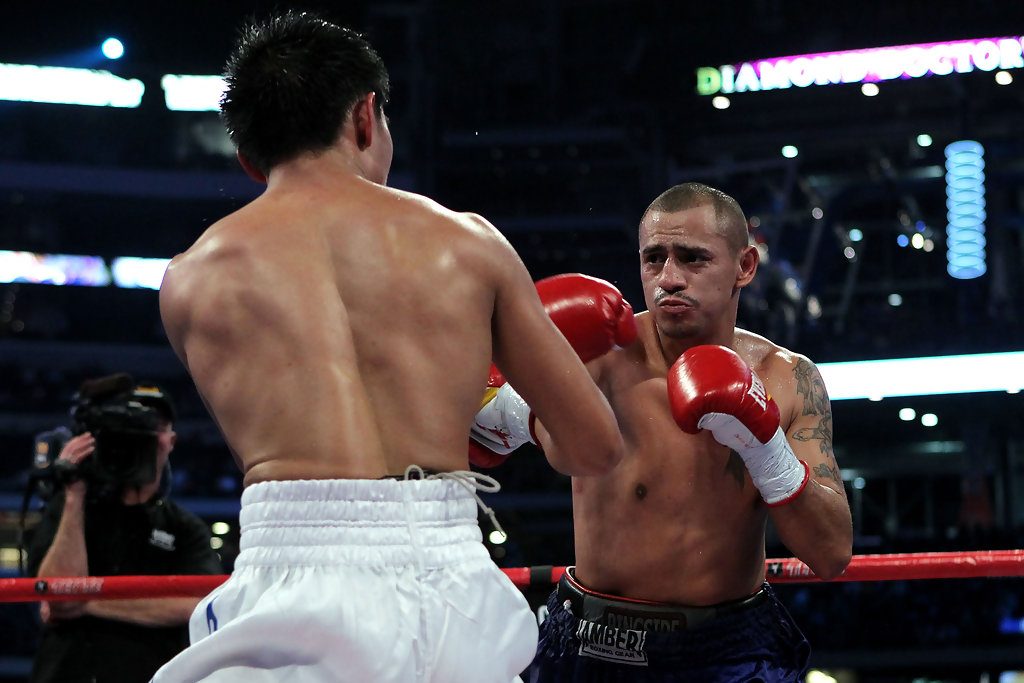 Never one to shy away from a good fight, Rodriguez approached the four round bout with the mindset of giving Elorde a warm welcome to Texas, and a warm welcome he gave, beating Elorde by unanimous decision, against all odds!
Sick of seeing the same old formula of promoter favored fighter picking up an easy win against an opponent that had little to no hope of winning, I personally, especially enjoy an underdog turning the tides on his opponent and the boxing establishment, and banging out a win when he was brought in to lose.
For this reason I decided to tell the story of this fight, and to let Rodriguez tell the story in his own words.
Angel, tell me about the Elorde fight, how were you able to pull the upset?
"Well throughout my career, I always came in as an opponent. That's what my career was built on, taking on undefeated fighters and exposing them. I only had six amateur fights, and basically I was thrown to the wolves after my second pro fight. "
"As far as the Elorde bout, well my coach came in the gym and said Top Rank was looking for an opponent for an undefeated fighter on the Pacquiao vs Margarito under-card. We looked into the guy and saw that he had an undefeated record, but hadn't fought anybody worth bragging about, so I said, "Come on with it."
"Elorde is southpaw so I sparred with nothing but southpaws, and we figured that with my aggressiveness, once I took the fight to him and got inside on him, he would essentially no longer be a southpaw, and at that point I would let my hands go. On the night of the fight I did just that and I was victorious by unanimous decision, all three judges had it going my way. "
"I basically just smothered his ass and I have to admit, the sumbitch was really tough! I was tagging his ass and he just wouldn't budge, those Filipinos have good chins! All in all I was just the hungrier fighter on that night. The public and the promotion tried to make him out to be a something he wasn't, a superstar. Well maybe he was in his country but not on this side of the world, and my job that night was to remind him where he was at."